Thunder Grunt Stuffed Mushrooms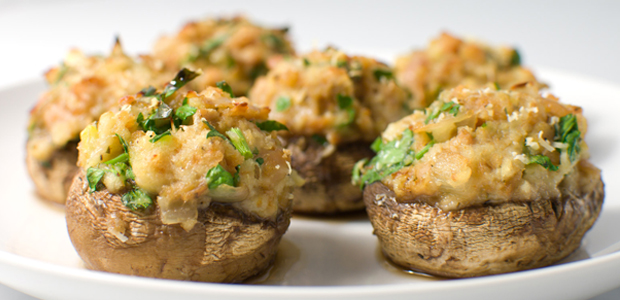 The high load of garlic gives these mushrooms their kick, but it does blend in with the rest of the stuffing.
The secret here is to let the butter drip down into the mushrooms after it has "filtered" through the stuffing.
METHOD:
1. Remove the stems and clean and dry the mushrooms.  Fry the bacon until crisp and crumble when cool.  Keep the grease in the skillet.
2. Heat the bacon grease in the skillet and the butter.  You may need slightly more or less depending upon the amount of bacon grease. Saute the garlic slowly for about 5 minutes.  Stir it around then stir in the bread crumbs and fry for another few minutes.
3. Add the Worcestershire Sauce, 3/4 cup cheese and, finally the bacon.  Mix once again and cook for a few more minutes. When everything is well blended, remove from heat.  The mixture should be very moist, but not wet.  If there is too much liquid, add a little more bread crumbs and heat through.
4. Stuff the mixture into the mushrooms very tightly and top with 1/2 tablespoon of grated Parmesan cheese.  Put the stuff mushrooms on a baking dish.
5. Place in a preheated 350°F oven for about 20 minutes or until cheese on top is brown.  The main thing is to cook slowly enough to allow the butter to drip down into the mushrooms.  Take the mushrooms out of the baking dish and place on to paper towels to blot up excess butter.  Serve with a glass of wine.  You can choose your favorite Red or White, both go quite well with these delights!  I often offer a choice to my guests of either a good Chianti or Chardonnay.
10 mushroom caps
{these should be as large as possible to hold the stuffing}
3 strips bacon
1/4 cup {1/2 stick} butter
2 – 3 cloves garlic, finely minced
1/2 cup fresh bread crumbs
1 1/2 tablespoon Worcestershire Sauce
3/4 cup grated Parmesan cheese
5 tablespoons Parmesan cheese for topping
20 mins
2-3
(Visited 16 times, 1 visits today)