Kung Pao Chicken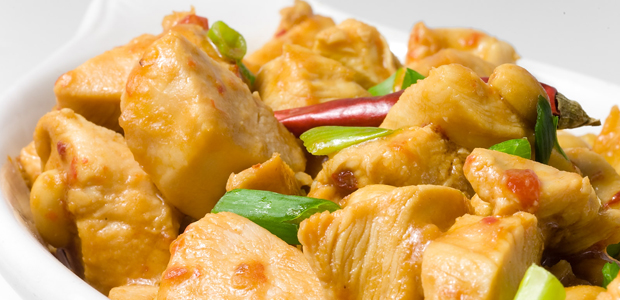 Kung Pao Chicken

METHOD:
Stir broth into cornstarch in small bowl. Add next 4 ingredients. Stir. Set aside.
Beat next 3 ingredients with fork in medium bowl. Add chicken. Stir until coated.
Deep-fry, in 2 batches, in hot (375°F, 190°C) cooking oil for 3 to 4 minutes, stirring to separate pieces, until golden brown. Remove with slotted spoon to paper towels to drain. Keep warm.
Heat wok or large frying pan on medium-high until very hot. Add second amount of cooking oil. Add next 7 ingredients. Stir-fry for 3 to 4 minutes until tender-crisp. Stir broth mixture. Stir into vegetable mixture for about 30 seconds until boiling and thickened. Add chicken. Stir until coated with sauce and heated through. Sprinkle with peanuts.
Prepared chicken broth
2/3 cup 150 mL
Cornstarch 1 1/2 tbsp 25 mL
Soy sauce 2 tbsp 30 mL
Hoisin sauce 2 tbsp 30 mL
Dry sherry 2 tbsp 30 mL
Chili paste (sambal oelek)
2 tsp 10 mL
1 Egg white (large)
Cornstarch 1 tbsp 15 mL
Sesame oil 1 tsp 5 mL
Boneless, skinless
chicken breast halves
(about 4), cut into 3/4 inch
(2 cm) cubes 1 lb.
Cooking oil, for deep-frying
Cooking oil 1 tbsp 15 mL
Cubed red, yellow and/or green peppers, cut into 3/4 inch
(2 cm) pieces about 1 1/2 cups
or 375 mL
Diced carrot 1/2 cup 125 mL
Diced celery 1/2 cup 125 mL
Diced onion 1/2 cup 125 mL
2 Garlic cloves, minced
(or 1/2 tsp., 2 mL, powder)
Finely grated peeled ginger-root
1 tsp 5 mL
2 Green onions, cut into 1 inch
(2.5 cm) pieces
Roasted peanuts, coarsely chopped 1 /2 cup 125 mL
15 minutes
4
(Visited 11 times, 1 visits today)