Homemade Tomato Bisque Soup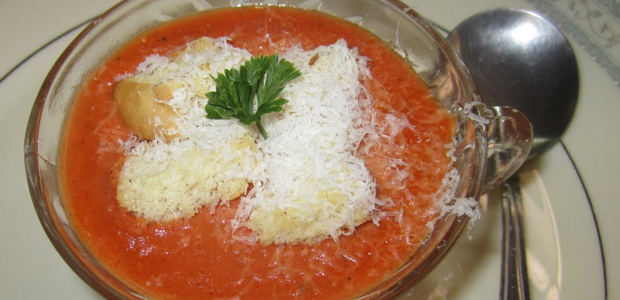 An old fashioned favorite!
Perfect with a grilled cheese sandwich!

INGREDIENTS:
2 cup chicken broth or stock
1 – 14 1/2 oz can whole tomatoes, undrained and broken up
1/2 cup chopped celery
1/2 cup onion, chopped
3 medium tomatoes, peeled, seeded and chopped
3 Tbsp butter
3 Tbsp flour
2 cups half-half
1 Tbsp sugar
METHOD:
In a large saucepan, combine broth, canned tomatoes, celery, onion; bring to a boil.
Reduce heat and cover and simmer for 20 minutes.
In a blender or a food processor, puree mixture in small batches until mixture is pureed.
In same pan, cook fresh tomatoes in butter about 5 minutes.
Stir in the flour.
Add the half and half.
Over low heat, cook and stir until thickened.
Stir in broth mixture and sugar.
Heat through, do not boil.
Prep: 50 mins
Serves: 4
(Visited 8 times, 1 visits today)