Harley's Lemon Almond Cake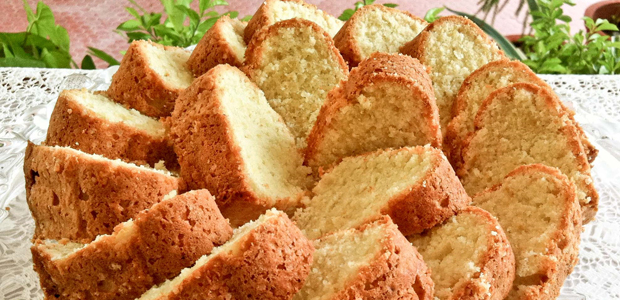 Harley's
Lemon Almond Cake
A light and refreshing cake that needs no icing
METHOD:
CAKE:
Note: If using cake and pastry flour, omit baking powder and salt
Combine flour, baking powder and salt.
Cream shortening and sugar in a large bowl on medium speed of an electric mixer until light.  Add eggs, one at a time, beating until light and fluffy.  On low speed, add dry ingredients to creamed mixture alternately with milk, mixing lightly after each.  Stir in lemon rind and almonds.
SPREAD batter evenly in  greased and floured 9 " ( 23 cm ) tube pan or bundt pan.
BAKE at 350° F ( 180 °C ) for 60 – 65 minutes, or until toothpick inserted into center comes out clean.
COOL in pan for 30 minutes: remove from pan and place on cake platter.
GLAZE:
HEAT sugar and lemon juice together to dissolve sugar. Â Brush surface of warm cake with glaze.  Repeat brushing until all glaze is used up. Â Let stand overnight to develop flavor.
HELPFUL HINT: Poke holes in surface of cake with a skewer or toothpick to let syrup glaze soak into cake.
prep time: 15 mins
freezing : excellent
CAKE:
3 cups all-purpose flour
1 tablespoon baking powder
1 teaspoon salt
2/3 cup Golden Crisco Shortening
2 cups granulated sugar
4 eggs
1 cup milk
2 tablespoons grated lemon rind
1 cup ground almonds
GLAZE:
3/4 cup sugar
1/3 cup lemon juice
65 mins
12

Print This
(Visited 17 times, 1 visits today)