Grand Marnier French Toast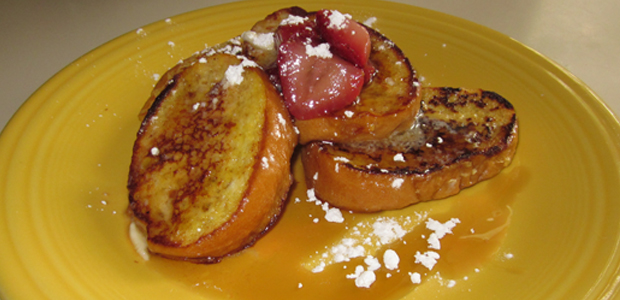 METHOD:
Whisk first 6 ingredients to blend in medium bowl.
Dip each bread slice into egg mixture and arrange in 13x9x2-inch
glass baking dish.
Pour remaining egg mixture evenly over bread.
Let stand until egg mixture is absorbed, at least 20 minutes.
Place baking sheet in oven and preheat to 350 F.
Melt 2 tablespoons butter in heavy large skillet over medium heat.
Add 4 bread slices to skillet and saute until cooked through and brown, about 3 minutes per side. Place on baking sheet in oven to keep warm.
Repeat cooking with remaining 2 tablespoons butter and 4 bread slices.
Transfer French toast to 4 plates.
Sift powdered sugar over toast.
Serve with maple syrup and Canadian bacon on the side.
4 large eggs
3/4 cup half and half
1/4 cup Grand Marnier or other orange-flavored liqueur
2 tablespoons sugar
1 tablespoon grated orange peel
1/2 teaspoon vanilla extract
8 3/4-inch-thick French bread slices
4 tablespoons (1/2 stick) butter
Powdered sugar
Warm maple syrup
25 mins
4
(Visited 13 times, 1 visits today)