Frosty Orange Cappuccino Dessert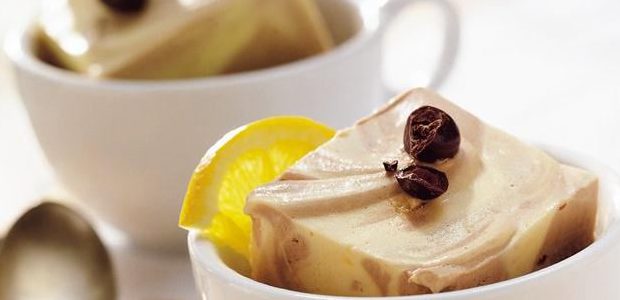 on: Betty Crocker Holiday Nov 1999 # 156 Booklet page 72
PREP TIME 30 Min
BAKE TIME 10
FREEZE 3 HOURS
INGREDIENTS:
2 cups crushed vanilla wafer cookies
(about 50 cookies )
1/3 cup margarine or butter melted
3 cups whipping ( heavy ) cream
4 teaspoons instant espresso or regular coffee ( dry )
2 tablespoons hot water
2 pkgs ( 8 oz ea ) cream cheese softened
2 cans ( 14 oz ea ) sweetened condensed milk
1 cup frozen ( thawed ) orange juice concentrate
2/3 cup chocolate flavored syrup
METHOD:
Heat oven to 350°F. In small bowl, mix crushed cookies and butter.
In bottom of ungreased 13×9-inch pan, press mixture firmly and evenly.
Bake about 10 minutes or until light golden brown.
Cool completely, about 30 minutes.
Meanwhile, in chilled large bowl, beat whipping cream with electric mixer
on high speed until stiff peaks form; set aside. In small bowl,
stir espresso granules into hot water until dissolved; set aside.
In large bowl, beat cream cheese on medium speed until smooth.
Beat in milk until blended.
Spoon 1 cup cream cheese mixture into small bowl;
stir in orange juice concentrate and 1 cup of the whipped cream.
Stir coffee mixture and chocolate syrup into remaining cream cheese mixture
until smooth. Fold in remaining whipped cream.
Pour chocolate mixture over crust.
Drop orange mixture by spoonfuls over chocolate mixture; swirl mixtures with knife.
Freeze at least 3 hours until firm. For servings, cut into 5 rows by 3 rows.
NOTES:
SIMPLIFY:
Melt margarine in microwave.
Microwave uncovered in microwaveable measuring cup on high 45 to 60 seconds.
SPECIAL TOUCH:
Garnish with whipped cream, baking cocoa and a twist of orange peel if desired.
Place 1/2 teaspoon of baking cocoa in a small sieve, and tap sieve to sprinkle
cocoa over whipped cream. Place a couple of coffee beans on whipped cream.
Chocolate wafer cookies can be substituted for the vanilla wafers.
Serve this tasty frozen dessert in shallow coffee cups that have been chilled.
Total 4 hrs 10
Serves: 15

Print This
(Visited 29 times, 1 visits today)