Fish Tacos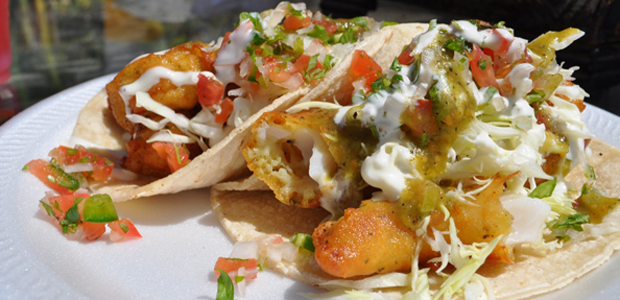 Fish Tacos
METHOD:
Preheat oven to 325 degrees F
Wrap tortillas in aluminum foil.
Garlic chopped finely – as close to a paste as you can. Finely chop cilantro, set aside.
In a bowl, mix equal parts avocado & creme fraiche, stir into a cohesive mix. Add garlic & cilantro to taste. Add juice of half a lime. Mix. Wrap w/plastic wrap, refrigerate. The longer it sets aside, the stronger the flavors will be, at least 45 minutes to 1 hour.
When ready to cook tacos – put tortillas in preheated oven. After 10 minutes, turn oven off, leave tortillas in warm oven.  The goal is to thoroughly warm & soften tortillas.
While tortillas are in oven – place fish in a sauce pan. Add taco seasoning & juice from half a lime & 1 pkg of water. Cover. Cook over medium heat, stirring occasionally, you want fish to flake & resemble ground meat; it might take 10 minutes or so. Once done, add corn & stir until corn is warm.
Assemble  Avocado/Cream sauce first, then meat & enjoy! It's important to make it to your taste & preference.
1 lb tilapia
1 pkg low sodium taco season
12 soft tortillas
1 avocado
creme fraiche – equal amt to avocado
1 lime
1-2 cloves garlic
1 bunch cilantro
1 can sweet corn  drained
60 minutes
6 – 12
(Visited 6 times, 1 visits today)