Chocolate Peppermint Cookies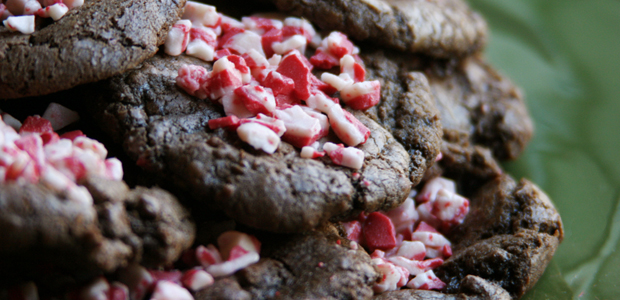 Chocolate Peppermint Cookies

These chocolate rounds topped with peppermint glaze and crushed candy canes make a festive addition to the Christmas dessert table. To crush the candy, place it in a heavy duty plastic bag and smack it with the smooth side of a meat mallet or hammer. Crush the candy into different sized bits, not a powder. Sharp edges may prick holes in the bag so be on the lookout for tiny shards of candy on your countertop.
METHOD:
WHISK together the flour, cocoa, baking powder and salt in a medium bowl.
USING an electric mixer, beat the butter and sugar in a large bowl until creamy. Beat in the egg. Beat in the milk and vanilla. With the beaters on low speed, mix in the flour mixture just until blended and the dough starts to clump together. Gather the dough into a ball, cover with plastic wrap, and refrigerate for at least 1 hour.
PREHEAT the oven to 350° F.  Line 2 baking sheets with parchment paper.
PINCH off small clumps of dough and shape into 1 inch balls, arranging them about 2 inches apart on the prepared sheets. With the heel of your hand, flatten the balls to a scant 1/2 inch thickness. The edges may crack in areas, which you can press together, if desired. Bake for 13 to 14 minutes, rotating cookie sheets from top to bottom and front to back halfway through baking. The cookies will feel a little soft on top, but they will firm up as they cool. Transfer to rack to cool completely.
FOR THE PEPPERMINT ICING: Whisk the confectioner's sugar and 2 tablespoons of water in a medium bowl until smooth. Whisk in the peppermint flavoring. The icing should be thick but spreadable. Add a little more water as needed to thin; or add more sugar to thicken.
TO ASSEMBLE the cookies: Place the crushed candy on a plate. Using a frosting spreader or a table knife, glaze the tops of the cookies with icing. Sprinkle some candy over wet icing, pressing down gently so it adheres. Alternatively, press the cookies icing side down into the candy. Place cookies on a rack until the icing sets completely.
STORE: layered between sheets of wax paper, in an airtight container for up to 5 days. The cookies look and taste their finest however within 2 days of being made. You can freeze the undecorated chocolate rounds for up to 1 month.
2 cups all purpose flour
2/3 cup dutch processed cocoa powder
1/2 teaspoon baking powder
1/4 teaspoon salt
12 tablespoons (1 1/2 sticks) unsalted butter softened
1 cup sugar
1 large egg
1 tablespoon milk
1/2 teaspoon pure vanilla extract
PEPPERMINT ICING
1 1/2 cups confectioner's sugar
2 to 2 1/2 tablespoons water
1/4 teaspoon peppermint flavoring
GARNISH:
4 ounces striped candy canes or hard peppermint candies,
crushed into bits ( about 2/3 cup )
13 – 14 minutes
34 Cookies

Print This
(Visited 19 times, 1 visits today)