Bar B Barn Spare Ribs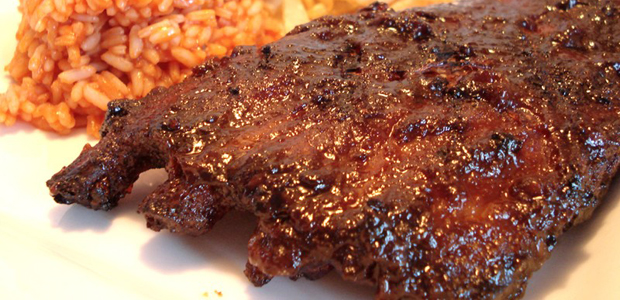 Delicious Pork Spare Ribs Made With Apple Sauce
METHOD:
Par-boil ribs in boiling lightly salted water for about 10 minutes.
In a heavy saucepan, mix applesauce, brown sugar, lemon juice, pepper, salt, paprika, garlic  powder and cinnamon.
Over medium high heat, bring sauce to a boil and continue boiling for 1  2 minutes. Place par-boiled ribs in an oven  proof dish and brush with ½ the sauce mixture.
Bake for about 45 minutes in a pre-heated 350 degree oven, Turn ribs after 45 minutes and brush with remaining sauce. Bake for another 45 minutes on this side of ribs
2 lbs pork or beef ribs
½ tsp salt
1 cup applesauce
½ tsp pepper
2 cups brown sugar
½ tsp paprika
½ cup lemon juice
½ tsp garlic powder
½ tsp cinnamon
90 mins
4

Print This
(Visited 138 times, 1 visits today)